Most surprise proposals photography session are 60-minute shoot. For your proposal photographer Paris it's the perfect amount of time to capture your photography proposal memories, couples photography with a variety of backdrops in one location. Pricing starts at 60-minute shoot.
From simple and romantic location as in front of Eiffel Tower proposal to stylish and chic proposal with decoration, live musicians and rooftops with breathtaking views, I will help you. I work with a professional proposal planner.
1. What day would you like to book your proposal photographer in Paris ?
2. What time of day would you like to have your proposal photographer in Paris ?
I'd recommend to start as early as possible in order to have the location free of tourist crowds. Best light are sunrise and sunset.
Do you have any time restrictions your surprise proposal photographer needs to know about ?
e.g. You are requesting a morning proposal photos shoot but you have a hairdresser appointement before or you are requesting an afternoon shoot but need to be finished by 5pm. This will help me, as your proposal photographer in Paris, confirm my availability and hold your spot.
If your requested date is not available, are there any alternate dates that might work ?
Where to propose in Paris ? I provide maps to help couples to find the meeting point ! The google map I create include tips and photos to ensure that your proposal marriage goes smoothly.
Please tell me ideas of what you would like to see for your surprise proposal photography or important information that would be helpful for your photographer to know. As your photographer, I would suggest a different route if I think it is the best fit for your shoot goals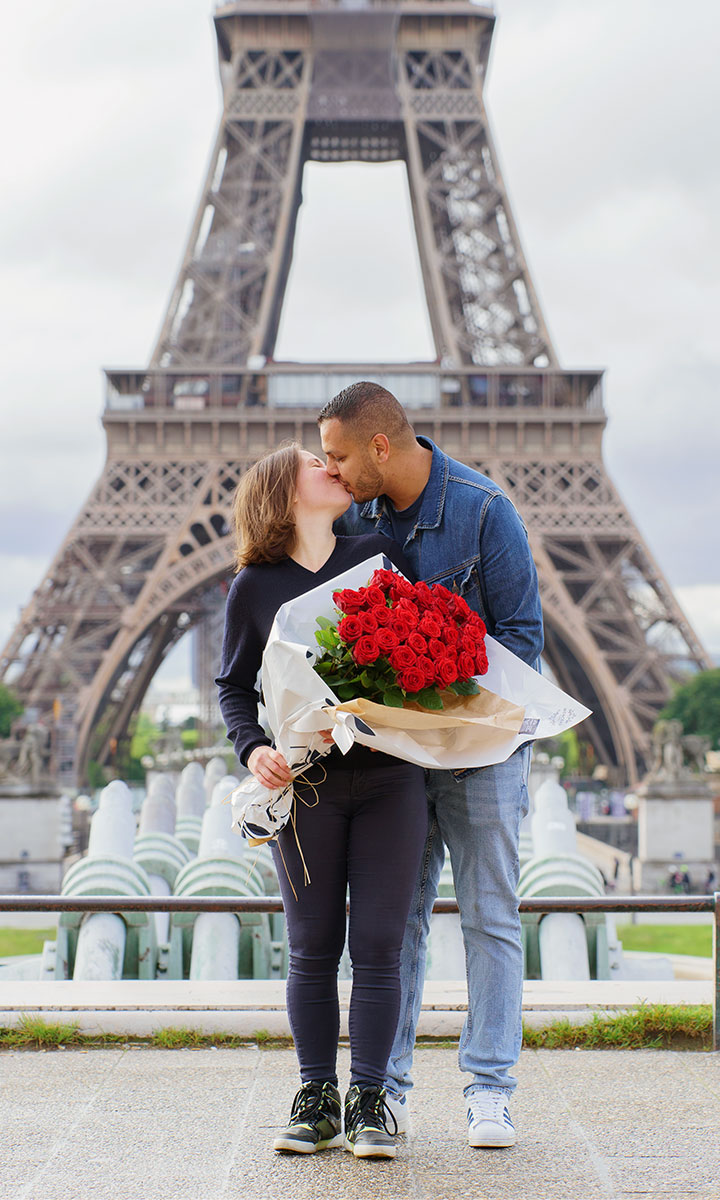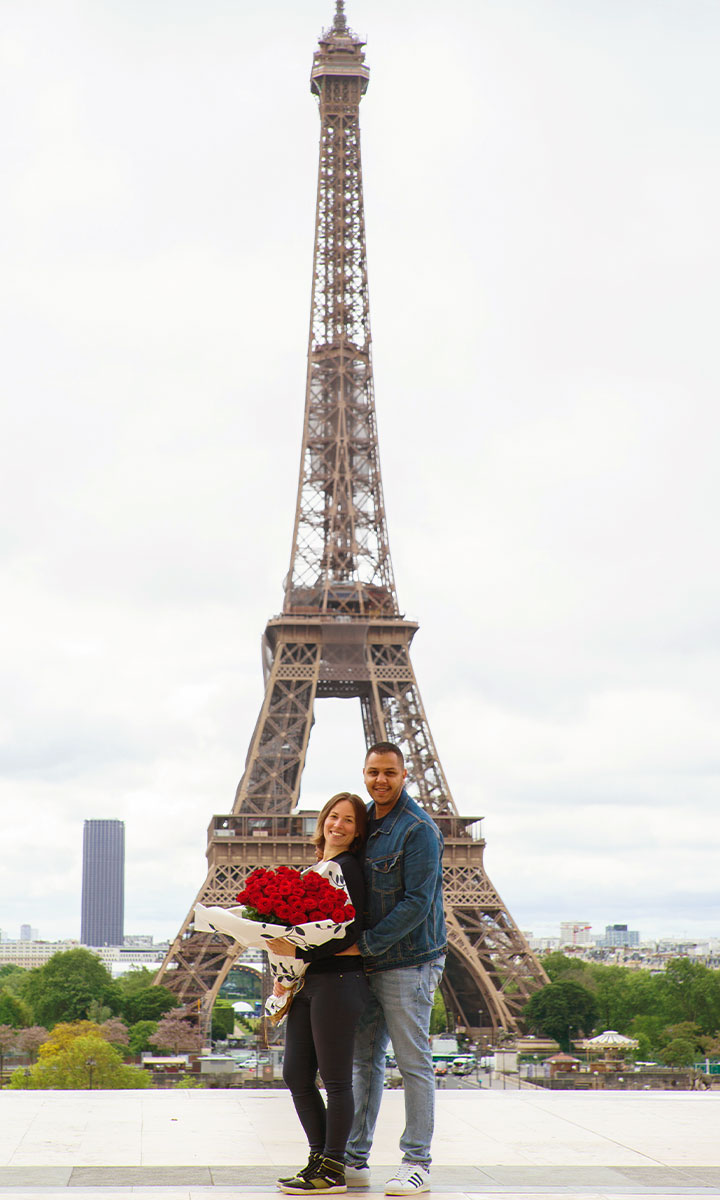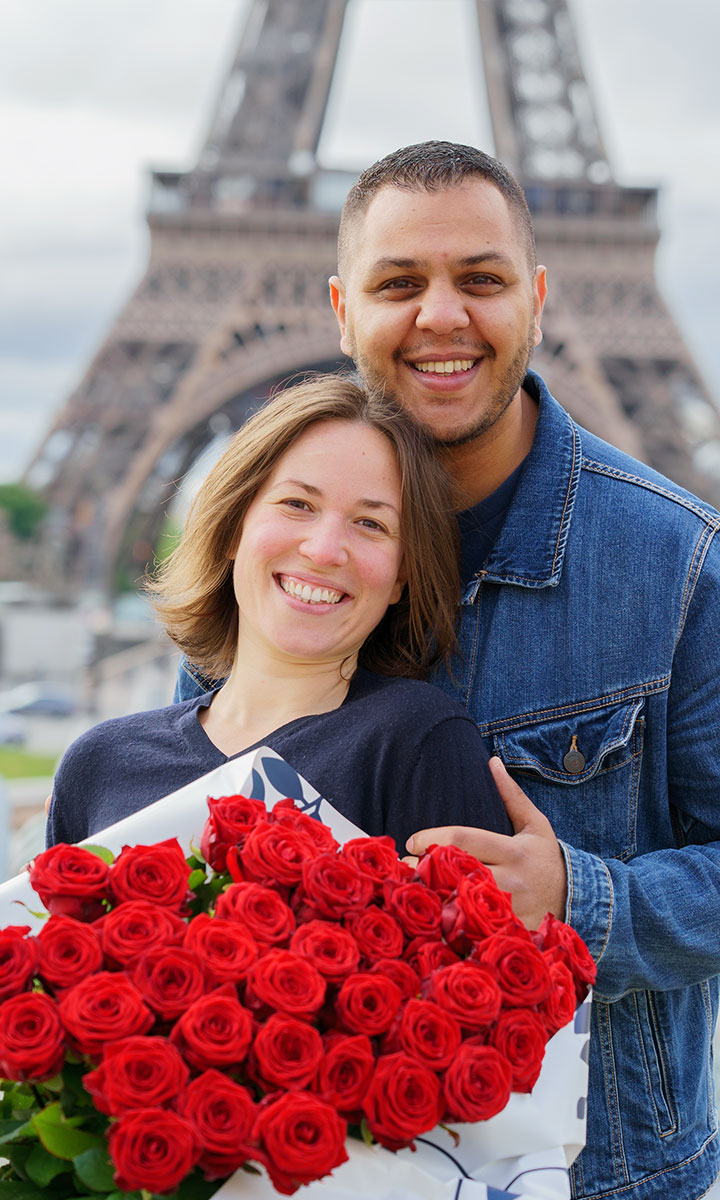 ---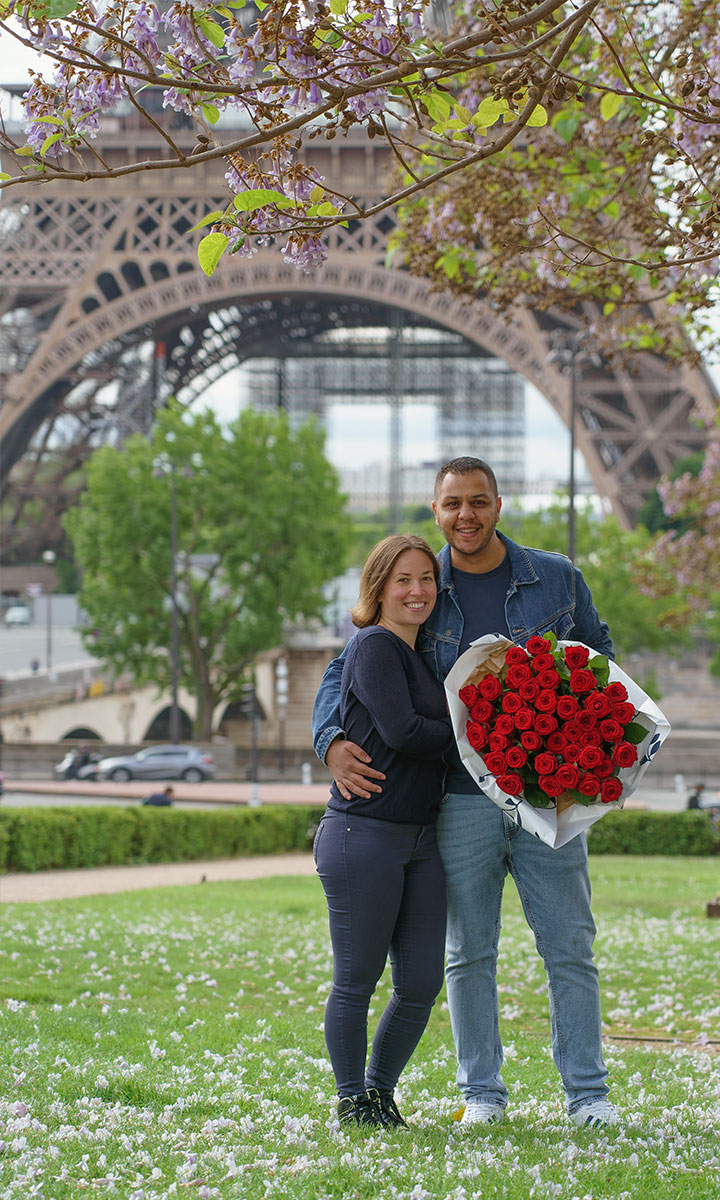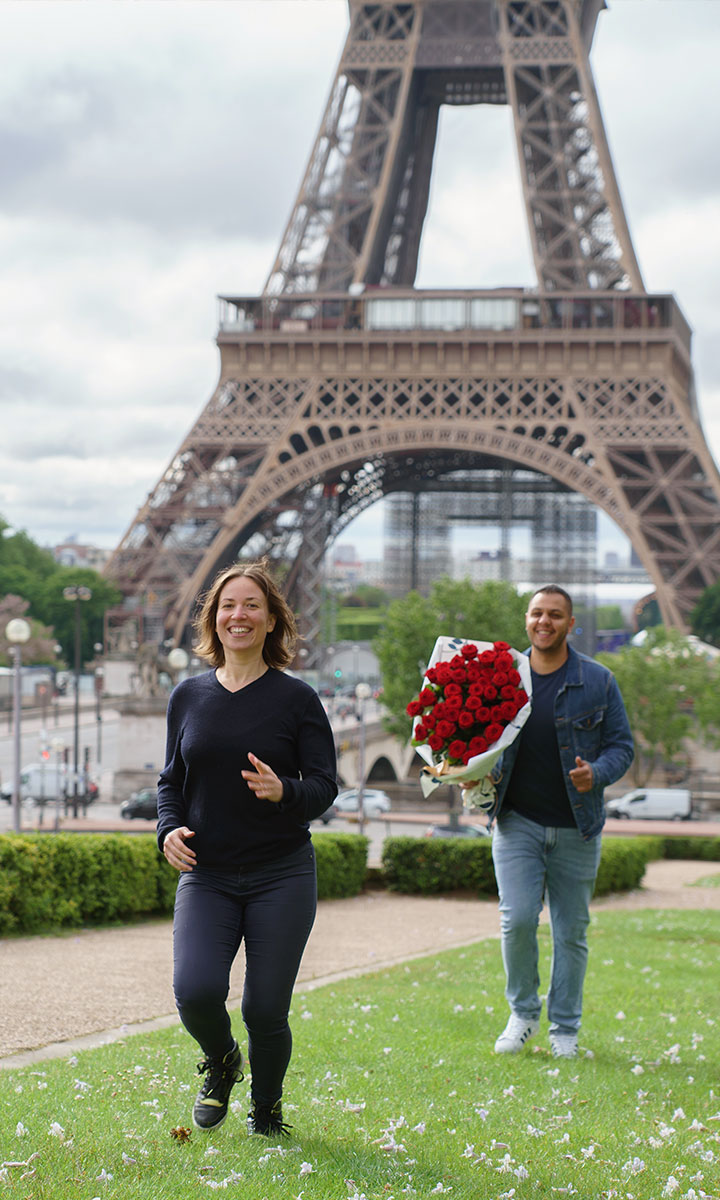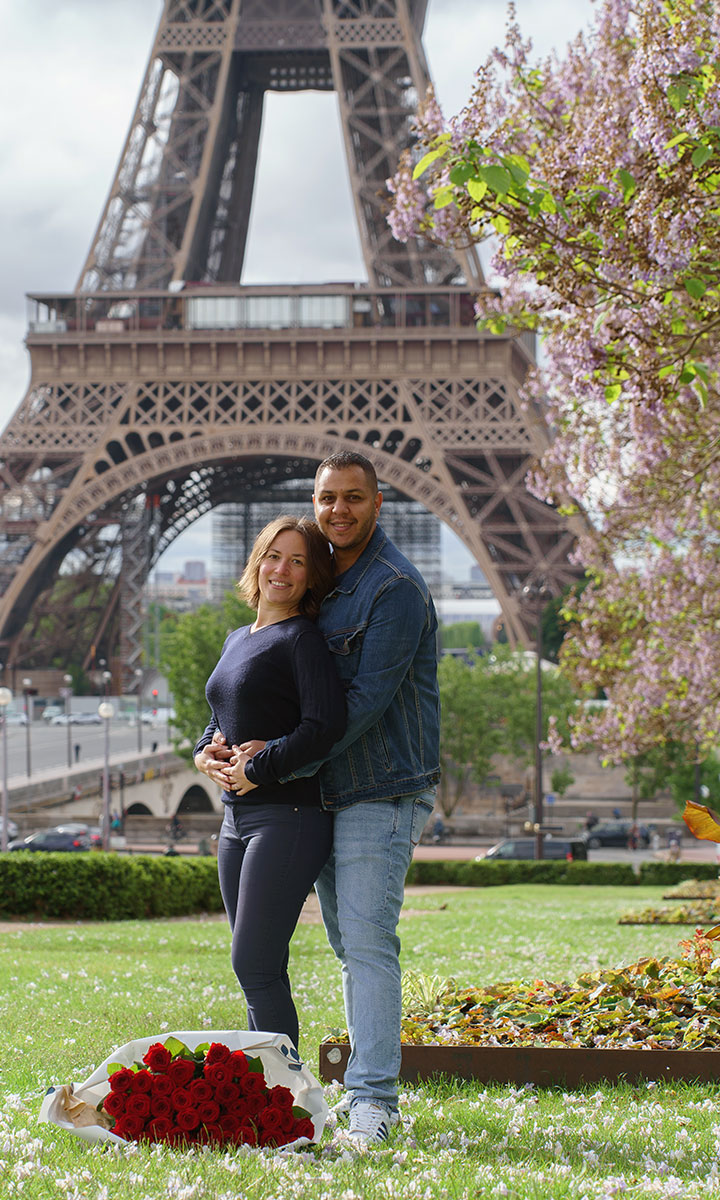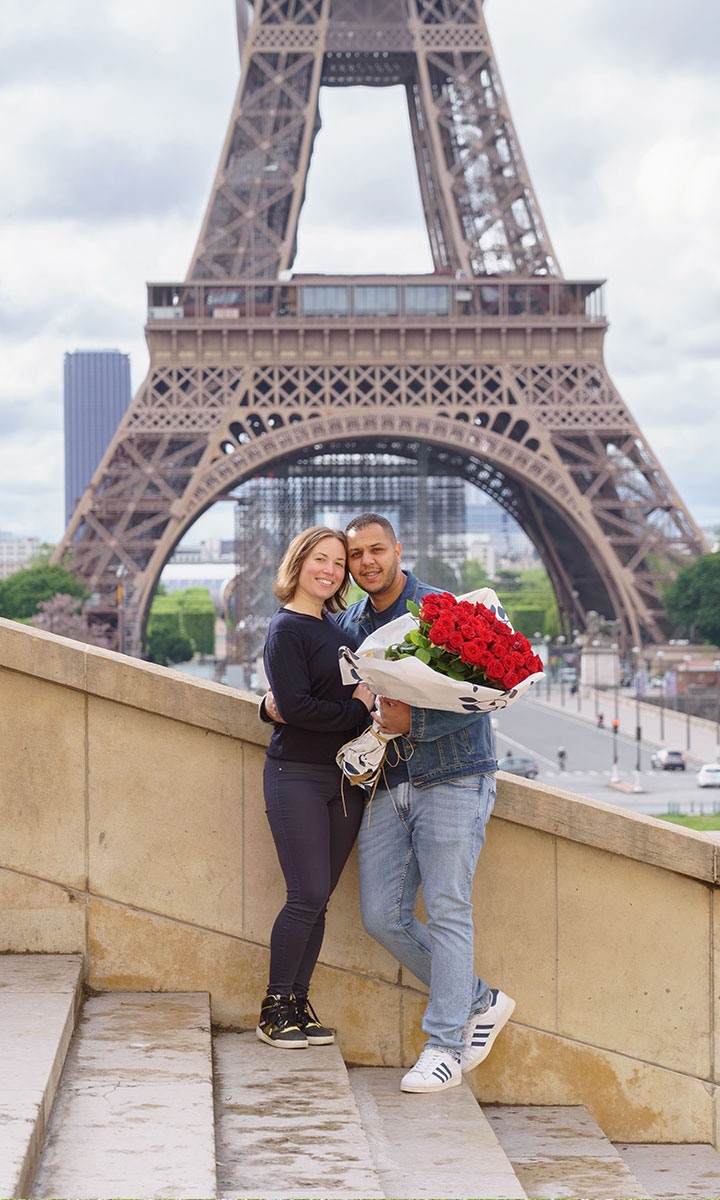 4. Decide the proposal scenarios for the meeting with the Photographer
1. The proposal photographer in Paris hides at a distance from you. It's my favorite approach to proposal photoshoot.
Complete surprise
Need to stand both of you from your profile side in front of the camera with the nice backgroud behind you
Wait that nobody is between you and the photographer
2. Book a vacation photoshoot as a cover and then pop the proposal partway through
Prepared for photos
Less spontaneaous
3. The proposal photographer in Paris arrives as a street photographer to take picture just before the big ask
May arouse suspicious
The proposal photographer in Paris is in position
Which additional services do you need for your proposal ?
Flowers
Champagne and glass
Decoration Marry Me with
Musiciens
5. Choose your preferred style of Paris proposal photos
During the photo session, I take pictures of venues, going to propose moments, feeling of getting engaged, portraits, gesture, couples poses, ring and engagement photo session for your future save date cart ! Tell me what kind of photographies you want :
Mostly natural, unposed, spontaneous moments
Mostly posed, looking at the camera
Mix of both posed and natural shots
Couples venue
...
6. What level of direction would you like from the proposal photographer Paris ?
No direction - comfortable in front of the proposal photographer in Paris camera and happy with a completely photo-journalistic approach
Directed - most comfortable if the proposal photographer in Paris offered lots of help and direction throughout the shoot
A balanced Mix - spontaneaous, in-the-moment shots combined with helpful prompts and direction from the phottographer for ideas and natural poses
Surprise marriage proposal at Eiffel Tower in Paris
As a proposal photographer in Paris, I make sure to capture your once-in-a-lifetime marriage proposal moment. So if you are currently planning to pop the question to your girlfriend, I will take care of the perfect secret wedding proposal photo-shoots, during which your bride-to-be will spell out the three celebrated letters "Y-E-S".
Being a proposal photographer allows me to recommend some of the best marriage proposal ideas and more creative ways to propose, such as:
original proposal on a hotel or restaurant rooftop decorated with candles and rose petals with the famous proposal champagne
getting married with an interesting proposal to recreate the first-date
to get down on one knee with a simple proposal on Valentine's day at some fabulous places in Paris, where the proposal photographer takes beautiful engagement photos of the fiance nervously waiting for her to say yes
popping the question during creative proposal ideas like a treasure-hunt or scavenger-hunt
asking her hand in marriage with a diamond ring by doing an epic proposal flash-mob
avoiding the cliché proposals, proposing instead on a hot air balloon or a carriage ride, on a helicopter tour in Paris
Also, I'm proposing a couple photo sessions or portraits. Plus, your high-resolution wedding pictures will be uploaded to your private online gallery or wedding album.
Why should you hire a secret proposal photographer Paris ?
Surprise proposal photographer in Paris, the city of love
Paris is one of the most beautiful cities in the world thanks to its architecture and especially its romantic vibe. That's why this city gives exalting effects to both the paris proposal photographer and the newly engaged couple. More and more lovebirds want to be photographed in this famous city of love every year: from the perfect wedding proposal to the unique wedding ceremony, whether at the foot of the Eiffel-Tower, on the Trocadero square, or a private cruise on the Seine river.
Emotions with your partners during a engagement proposal in Paris
A marriage proposal is one of the most important steps in a relationship. It is usually filled with emotions and a whirlwind of amazement, not only for the one who shows off the ring box but also for the bride-to-be. Those surprise marriage proposals are indeed the best rewarding experience for a paris proposal photographer because being a witness to such an intimate moment is an opportunity given to only a few people.
The proposal photographer can be extremely helpful to the groom to plan a secret wedding proposal. Not only will I make sure that even the tiniest details of this meaningful event last forever, but also enhance the most romantic memories of this day.
The decoration and every detail of the marriage proposal setting, that time when the fiancé asks her to marry him on bended-knee, the engagement ring… define the most spectacular memories in one's lifetime. Fortunately, all of them will be captured by the proposal photographer in Paris to make your dream comes true.
You can also share this magical moment with your loved-one by letting your friends-and-family into the secret. Like this, we will together start planning the setting, giving each of them a part to play, and even scripting a short story for this big day. The two of you will certainly relive this romantic scene through candid photography, photojournalism style, or cinematic storytelling proposal photography and videography with music playing in the background.
Plan your surprise proposal with a professional photographer in Paris
Surprise proposal photographer: a professional who will capture your picture-perfect moments
If you want your proposal of marriage to be perfect, you can discuss all the details of your proposal ideas with an engagement photographer, especially during a romantic getaway in Paris. But before proposing, you should propose a plan to one of the best photographers in the photography business in the city. This way it's easier for the best wedding photographer to give ideas and proposals and you will feel more at-ease with an expert's advice. Afterward, you can choose which of the proposal stories suits you.
As a proposal photographer in Paris, I am working with different professionals in this industry, such as wedding planner, florist, music pros and violinist, decoration services, or rental services (limousine, designer dresses, tuxedo…) All these wedding vendors work with the proposal photographer to guarantee memorable and exceptional results. My goal is to capture every moment of the fairy tale that you are living and tell your happily-ever-after story.
Moreover, you might want to consider buying the engagement-ring during the preparations of your proposal in Paris, because you can positively get engaged with a gorgeous diamond engagement ring or any other nice-looking engagement rings from the best jewelry stores there. Even if you are on a smaller budget, you will surely offer the perfect engagement ring to your sweetheart.
Marriage proposal photographer : Prepare your surprise marriage proposal with an accomplice
You can organize the meeting of the surprise marriage proposal with a friend, a relative of the future bride who will accompany her to you. I advise you to prepare the itinerary with the accompanying person in advance of the surprise marriage proposal. Time travel time so that it can text you 1 minute before your future bride is in front of you. If the accompanying person is not available to do the tour with you, do it alone by taking photos to send them to the accompanying person. Choose the same preparation time as the surprise marriage proposal to assess the crowd there, the background and the light.
Write out your wedding photography proposal story with an engagement photographer in Paris
Thanks to paparazzi-style photo shoots, your paris elopement photographer will be in a very secret spot so that he can capture that priceless and awkward reaction of your bride-to-be, or maybe mom-to-be when you'll ask her to marry you. A romantic weekend getaway or a day out, as well as couple photography in public places, can all be pretexts for the surprise proposal photography in Paris.
What is more, I ingeniously use the beauty of the natural light for the secret wedding proposal to be captured at any time; for instance, the softness and warmth of the daylight or the passionate atmosphere at sunset. Since Paris is known as the city of light, I can guide you to the most amazing and bright places to propose and capture beautiful engagement photos or just posing for a night-time engagement session, not forgetting the balloons to enhance this engagement photography.
To make this wonderful event complete, I offer a proposal package which includes:
the pre-wedding photography (beautiful photos for your wedding save-the-date or invitations, the engagement photo booth)
wedding photography packages for real weddings (photoshoot on the wedding-day getting ready, the bride in a gown, the bridesmaids, the exchange of vows, wedding knot and bouquet, bridal portraits at the boudoir, the newlywed walking down the aisle, wedding-ring poses, wedding portraits at a photography studio, the wedding venue, the wedding party, etc.). Besides, it is possible to plan one final artistic wedding photoshoot after the wedding ceremony. That is to say the trash the dress-style in which the bride ruins her wedding dress to take stunning and memorable wedding photographs.
These are some of the best places to propose in Paris
Known for the romantic vibes that the city exudes, Paris is undeniably the most swoon-worthy place to make your surprise proposal. Also, the sweetest and most thoughtful surprise to your significant-other will be having your engagement proposal secretly photographed. Likewise, your sweet memories of this day will be saved in your wedding albums or wedding photo books.
At this point, you need to invest in an experienced and more importantly caring secret proposal photographer in Paris, to ensure that your once-in-a-lifetime moment is skillfully captured. For example, you can make your marriage proposal at the Trocadero square or the Champ-de-Mars gardens with the Eiffel as a backdrop. The Louvre museum, the Pont des Arts, the Pont de Bir Hakeim, or the Pont Alexandre III are among the most unusual places to get married.
A visit to The Colonnes de Buren is a must during a romantic getaway in Paris. Plus, it offers a perfect setting to get a proposal. As stated before, Paris has countless incredibly romantic spots, like the Seine River. By the way, it is referred to as an "astonishing avenue of France". Apart from that, your paris engagement photographer can advise you about how to propose in the sumptuous hotels and restaurants rooftops such as the Ritz Paris, the Crillon, or Rosewood Hotel.
Wedding photography services in Paris
A paris proposal photographer will guide you through the city
Whether it is for a honeymoon, a first romantic trip, or a surprise marriage proposal in Paris, I will be able to accompany you through the city for your couple photo-shoot sessions, couple portraits, or couple photo studio, as well as family portraits. I can give you photography tips about the circuits and superb places to visit in Paris to create wonderful engagement pictures.
Professional proposal and portrait photographer, I live and work in Paris for several years now. Additionally, I graduated from a renowned school, the Cinema School Factory in Lyon. I have specialized in wedding photography and couple photo-shoot sessions since 2013.
I like spontaneity and capturing the groom to tell her "Will you marry me?" or the bride and groom getting engaged in their formal wedding attire, and then reproduce their personalities and touching moment, into colored or black-and-white wedding photos. Those years of experience, while photographing hundreds of couples that are displayed in my portfolio, allow me to make an award-winning surprise engagement proposal.
When using my knowledge of the capital of France, I will make you enjoy the most breathtaking places as well as the most fabulous settings to shoot unforgettable proposal photography or videography. In addition to wedding proposals, I can also cover any photography and videography services in high definition, like wedding ceremony, bachelorette and bachelor party, wedding anniversary, family photos, and so many more.