Paris Photographer Price

50 HD edited digital images by hours of coverage
online link download delivery in 48h hours
Private Online Gallery during 1 month
250€ 1rst hour
130€ following hours
Transport with taxi between differents locations in Paris during photoshoot stay to customers charge.
---
Who I am ? Valerie Marini, photographer in Paris
1 - Book your photoshoot in Paris with your photographer Valerie Marini
My photographer price being known, I do not make an estimate quotation beforehand. Discover my photos galleries, compare my prices, the quality of my photographies, the google reviews of my clients with others photographers. Once you have decided to work together, I send you a contract to sign. To edit a wedding photography contract I need the following information to send by whatsapp text message or email if the spelling is complicated :
Last name and first name of clients
billing mailing address
the email of the person who will receive the contract
the phone number of a second person on site
photoshoot time slot and location number on the below google map
name of the hotel you stay in Paris
day of arrival in Paris and day of leaving
Once informations have been received, I will send you the contract by email. After return by email of your contract signed and initialed on all the pages and the payment of the deposit of 10% of the amount of the service on paypal ( transaction fees stay at your charge ) , your date is reserved. The balance due is payable after the photo report. For a surprise marriage propasal, I will ask you a photo of both of you, with what you are wearing and to send me a text when you start walking over.
The deposit paid at the signing of the contract is evidence of a firm and definitive commitment. No cancellation can take place. If it's rainning, less people will be around and floor will be beautifully wet. Take an umbrella, photos will be rommantics and rain stand not that long in Paris.If rain don't stop, we will wait in a café or under a bridge and I will offer your extra time if it's need it to make nice pictures :).
2 - Choose the best spots in Paris for your photoshoot with a photographer
Eiffel Tower from Place du Trocadéro. Best place until 8 am for photoshoot because no crowd.
Eiffel Tower from Port de Debilly under Iena bridge. Best place during the day for photoshoot because no crowd.
Eiffel Tower from Bir-Hakeim bridge
Eiffel Tower from Alexandre III bridge and Petit Palais
Louvre museum and Tuileries garden
Arc de Triomphe
Montmartre
Ile de la Cité and Notre Dame
Luxembourg garden
Google Map of the best spot in Paris for photoshoot and marriage proposal.
---
3 - Surprise Marriage Proposal the 2 best spots for photoshoot in Paris with photographer
If you want pictures of your surprise marriage propsal, I advise you 2 locations in Paris to meet with your photographer in Paris. I will hides at a distance from you but we need to have eyes contact before your proposal. You need to stand in front of the Eiffel tower and in front of the camera. In this way I will have Eiffel Tower as background and you faces in front of the camera.
3-1 / Place du Trocadéro before 8 am photoshoot with Eiffel Tower as backgroung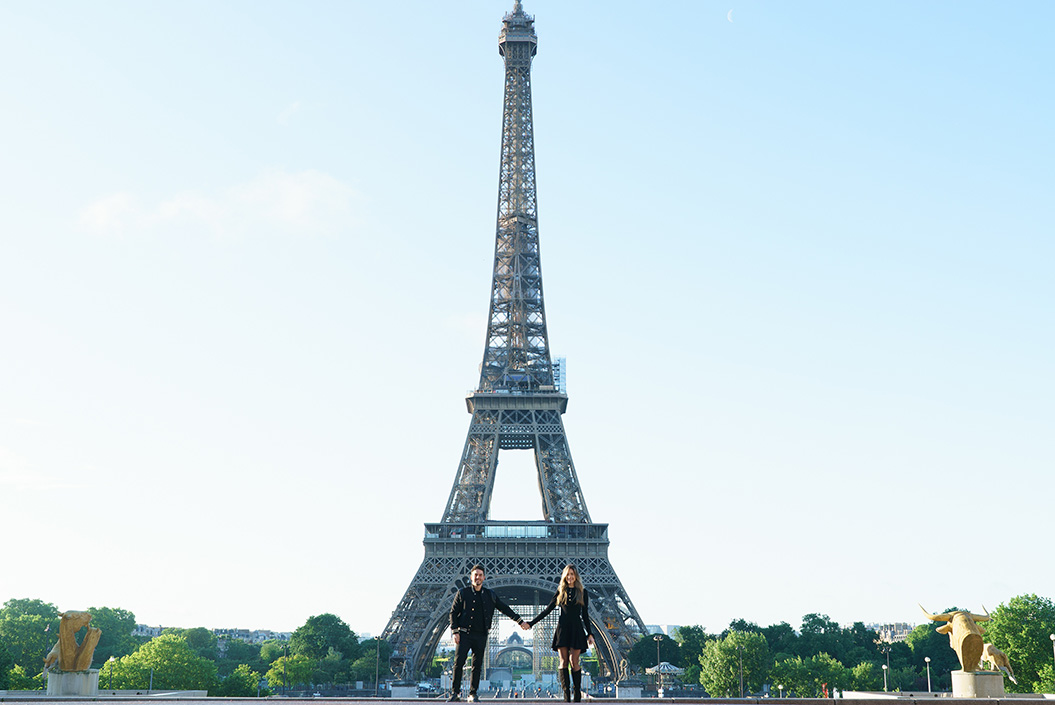 The best place for a wedding proposal in front of the Eiffel Tower is in front of the Trocadero fountain, at the level of the 2 golden status. You can come by metro Trocadero or uber at the Trocadéro place or place de Varsovie, the meetong point Trocadero fountains is at the middle, 5 minutes walk. Before 8 am there is no crowd. Best timing is at the sun rise. Check on google the sunrise time acconting to the day of you venue.
Check my photos galery to see the full marriage proposal shooting photo in front of the Eiffel Tower in Paris in Trocadero fountain.
3-2 / Port Debilly, under Iena Bridge after 8 am to the night photoshoot with Eiffel Tower as backgroung
As the place of Trocadero will be crowded on day and night time, I prefer to meet customer on port debilly with Eiffel Tower as back ground as you see on my below video " Who I am ".
How to come to Port Debilly, under Iena Bridge ?
From place of Varsovie, when you are facing the Eiffel Tower, take the stairs on the right corner between Iena Bridge and avenue de New York to go down the Debilly Port. Down the stairs, turn right and walk 100 metres to have a large view on Eiffel Tower. I will stand there, just like on the vidéo below.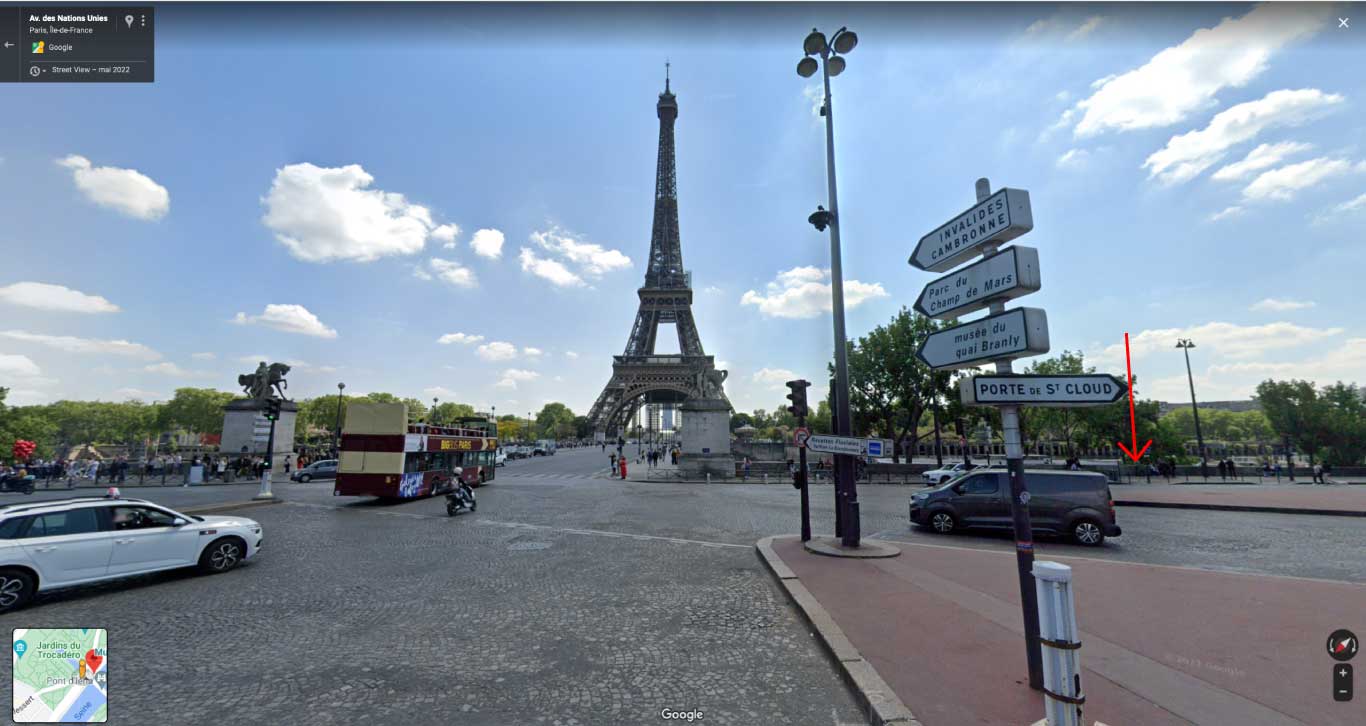 Place de Varsovie, Paris. Google map screen shot of the itinerary to meet your photographer for a surprise marriage proposal in Paris with Eiffel Tower as background. Follow the red arrow and take the stairs.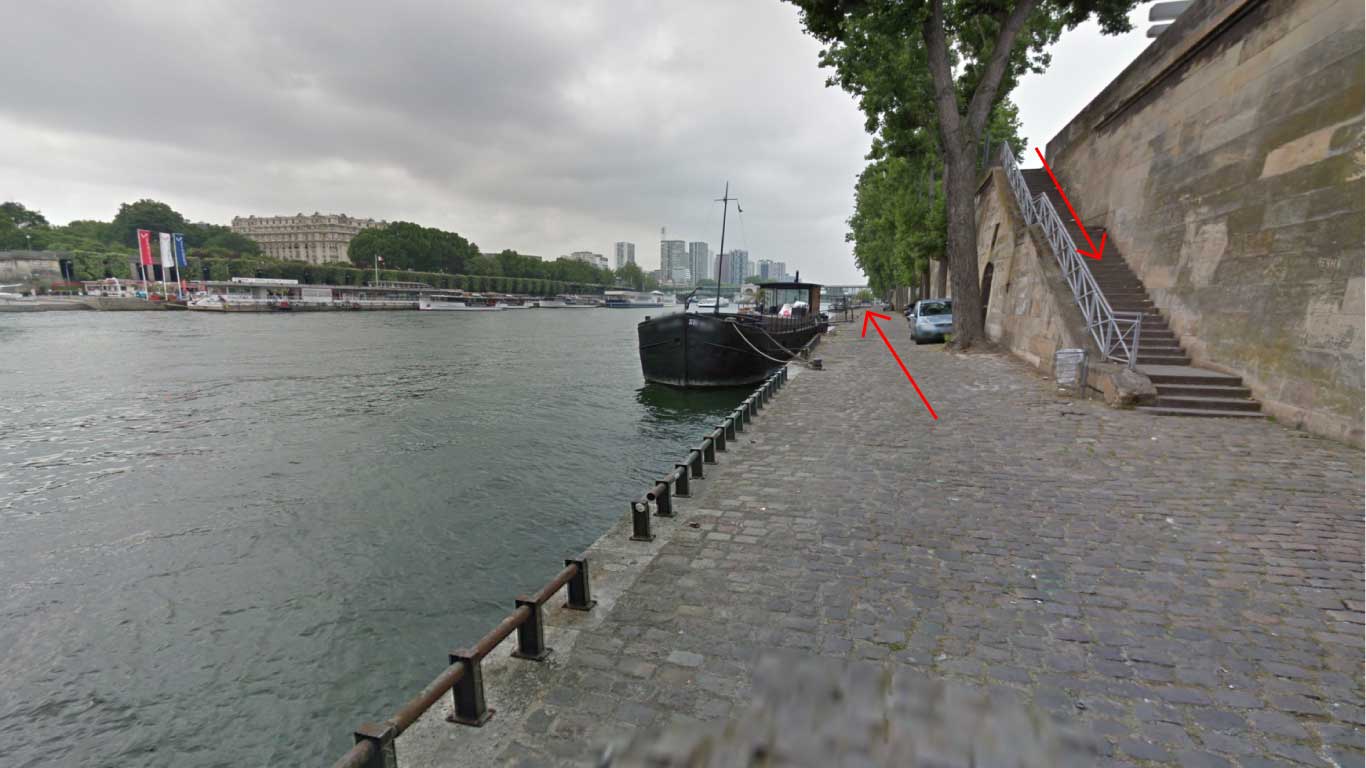 Port de Debilly, Paris. Google map screen shot of the itinerary to meet your photographer for a surprise marriage proposal in Paris with Eiffel Tower as background. Follow the red arrow and go down to the stairs, walk 100 metres, i will stand there.
Surprise Proposal Organisation at Port Debilly with Photographer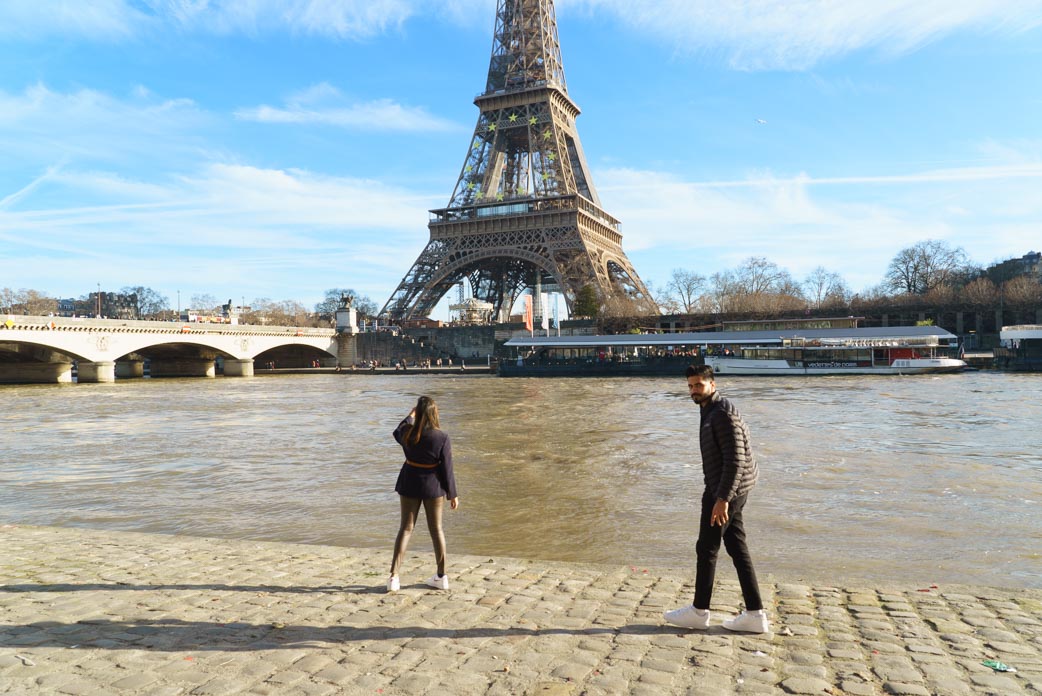 Look at me to check if I'm ready to shoot. I will make sign with my head.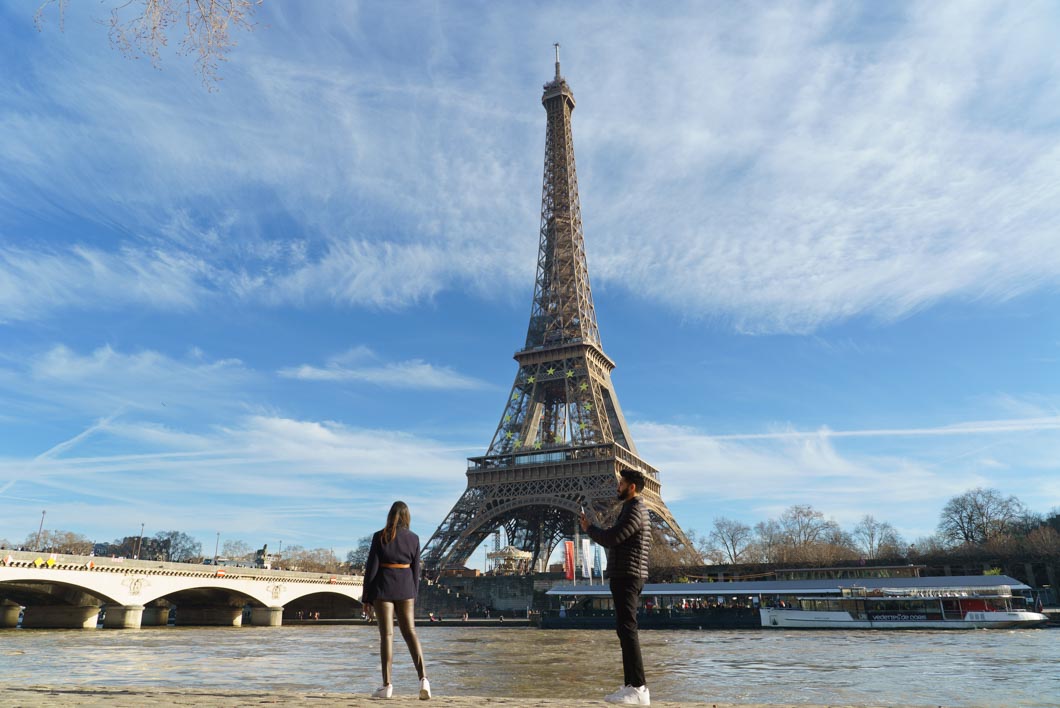 Tell your fiancée you want to make a picture of her with your smart phone.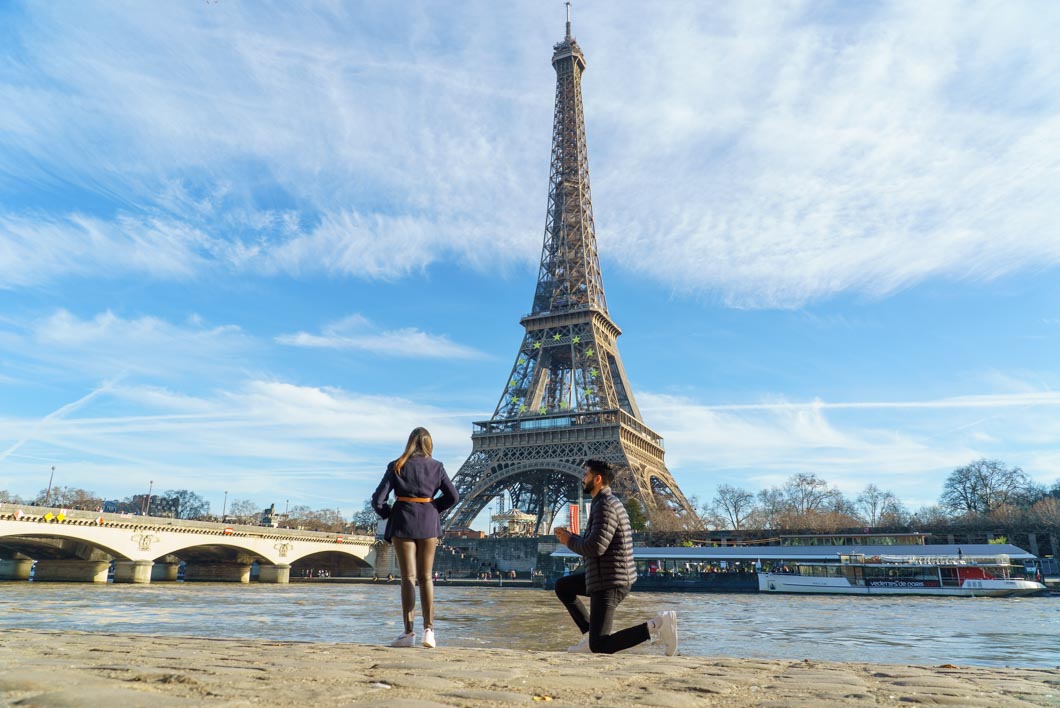 Make the surprise mariage proposal
Surprise Proposal Photoshoot at Port Debilly Photoshoot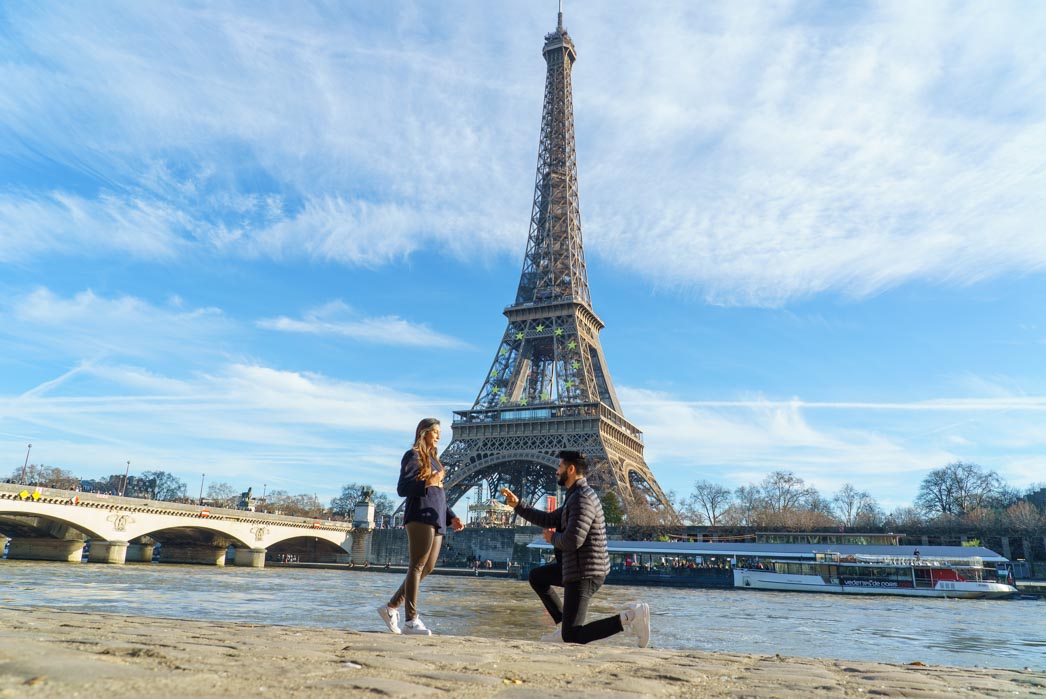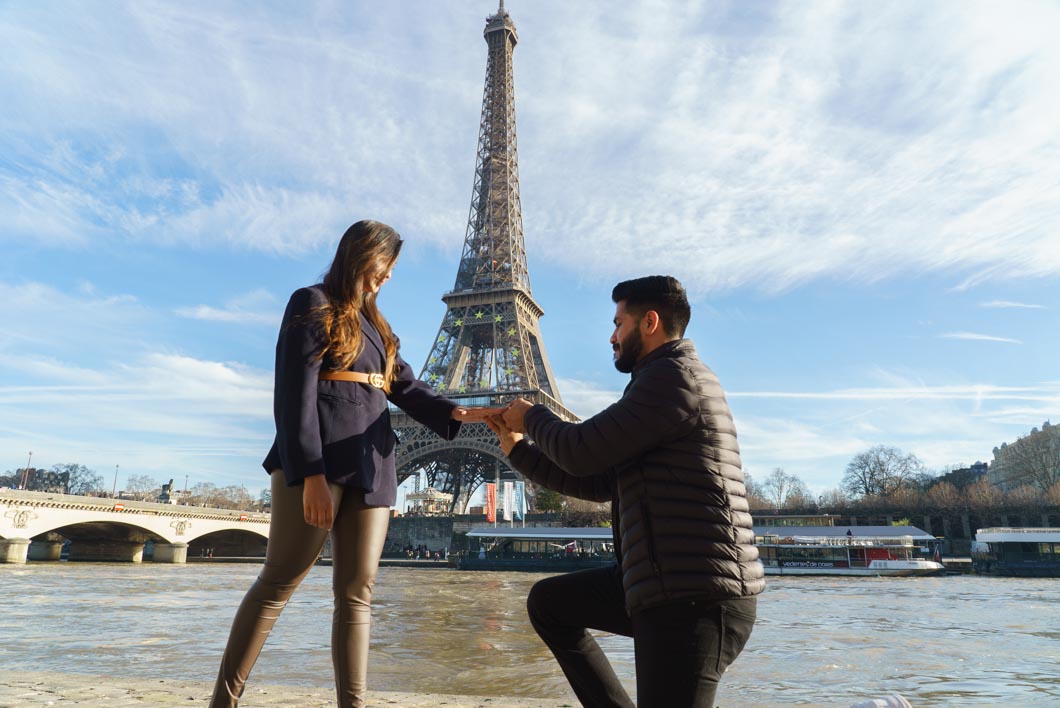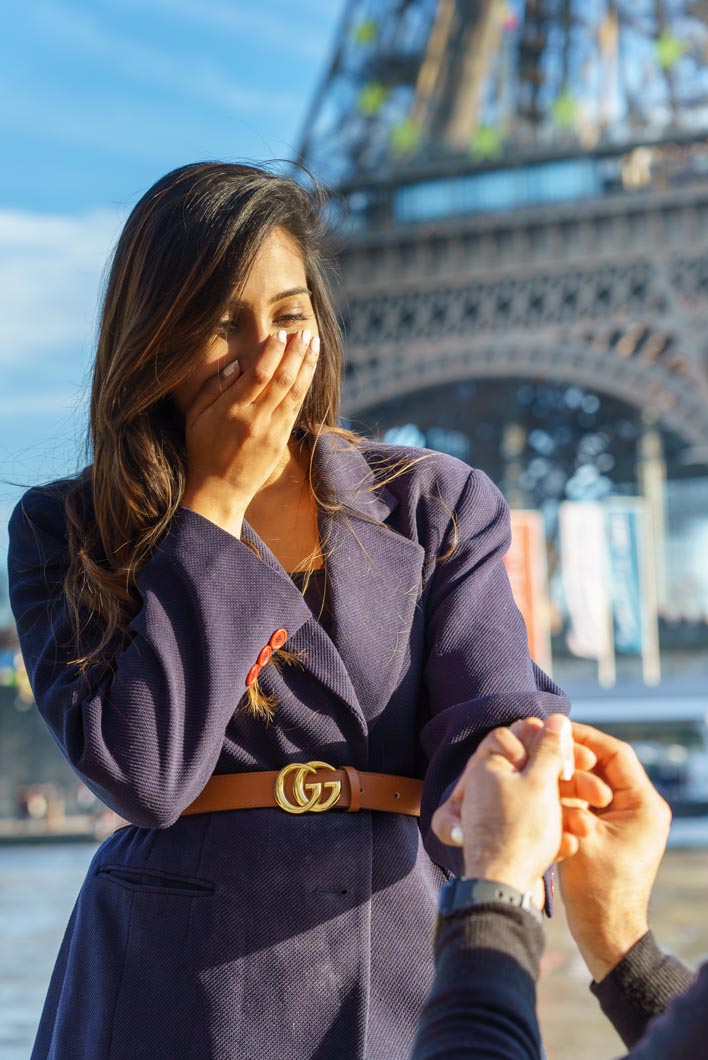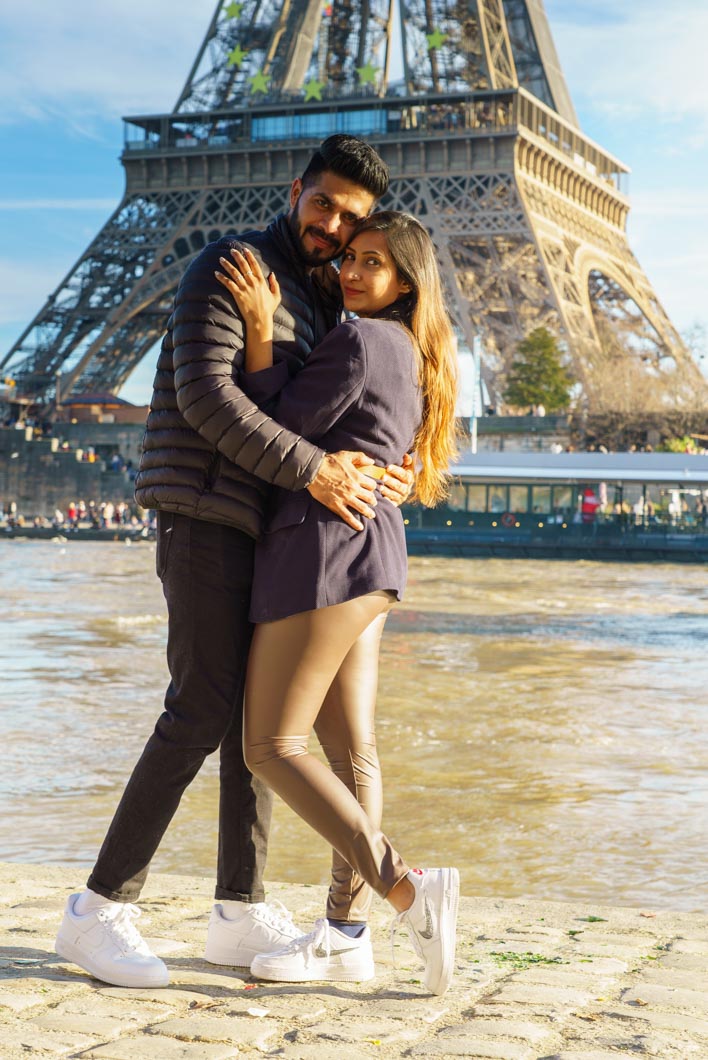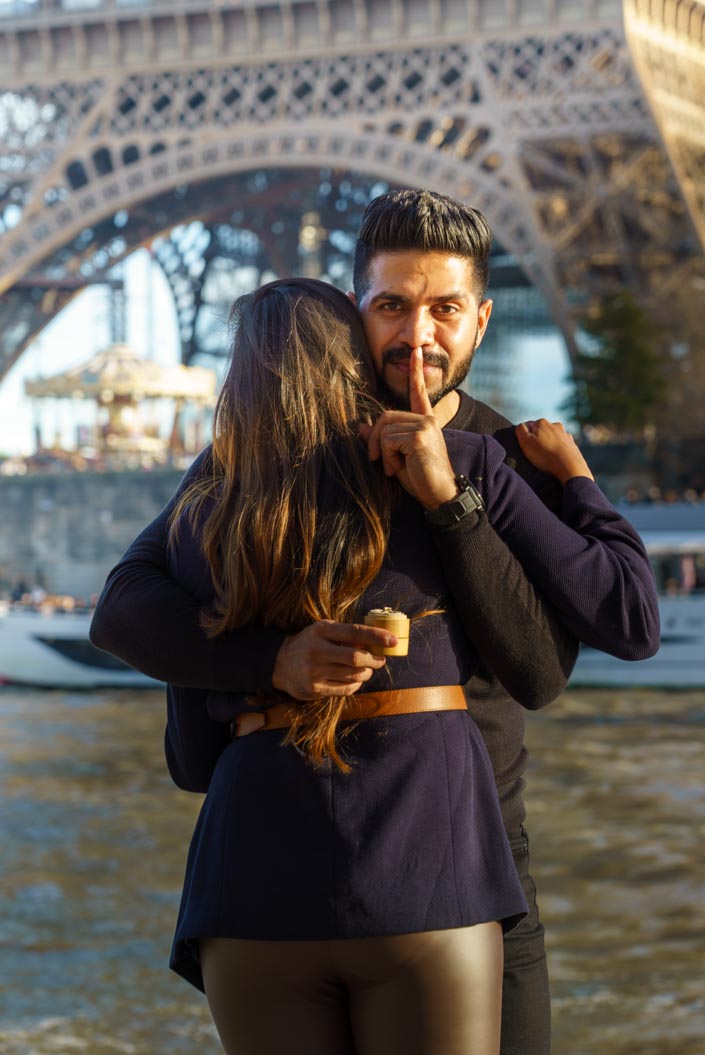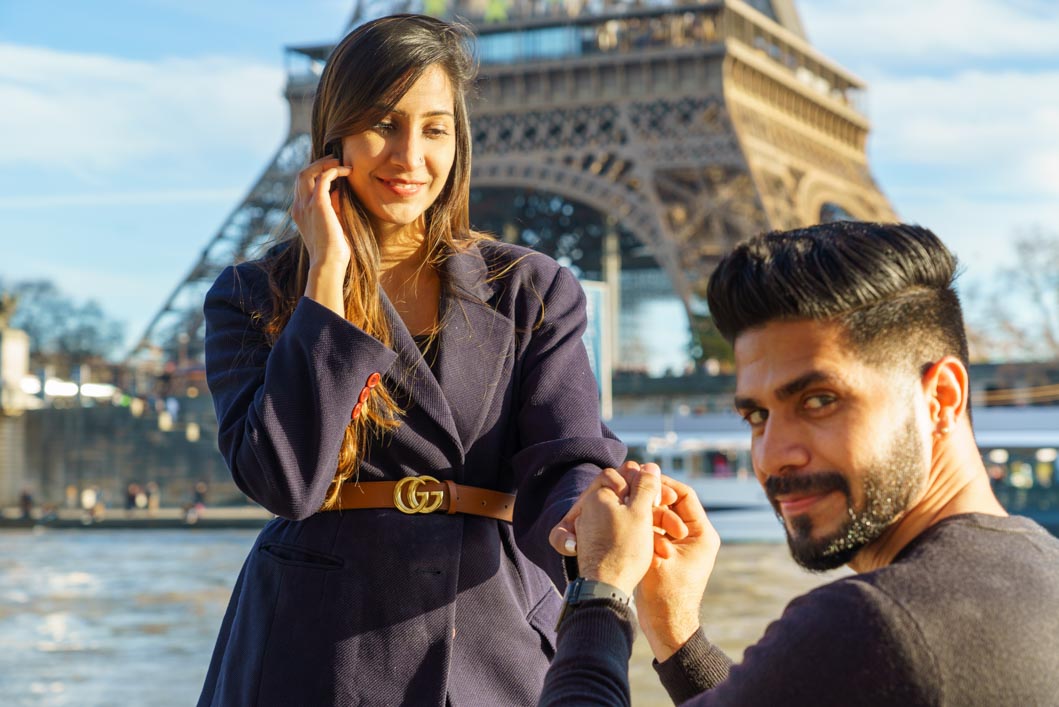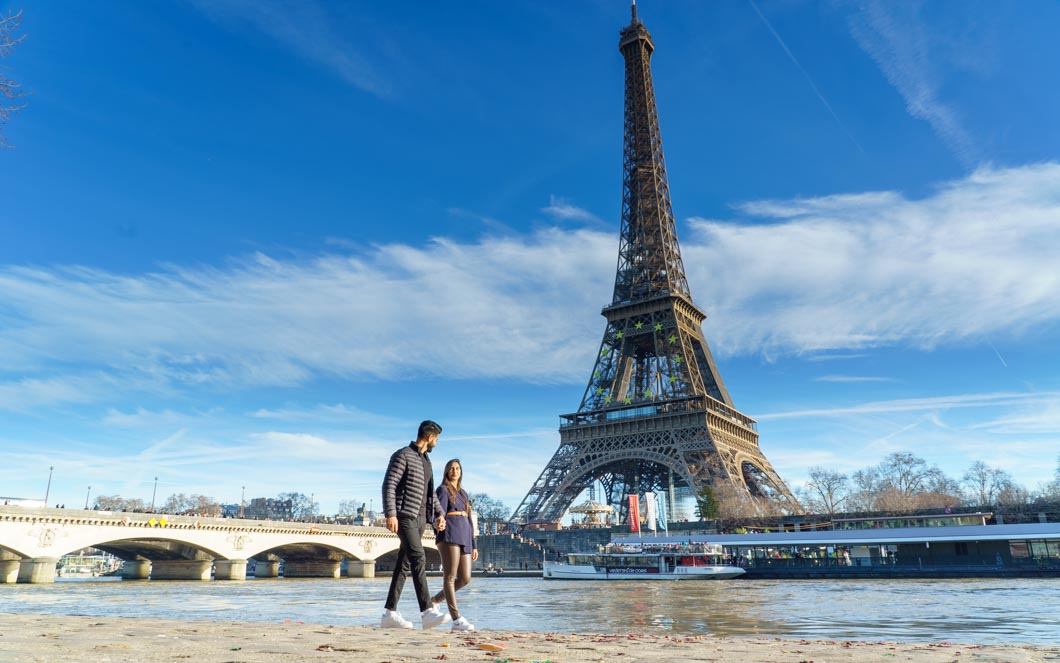 ---
Who I AM ?
Hello and Welcome ! I am Valerie Marini, photographer and videographer in Paris, France. On my video, recorded at the Port Debilly, under Iéna bridge, I explain my photographer job in Paris.
---
Paris Photographer Price for wedding, couples and family
In 2022, for a 30 minutes paris photoshoot, the average price you can expect to pay the personal photographer is approximately €200. On average a one-hour wedding photoshoot will cost €300 and a two-hour photoshoot will cost €500. Paris photographer prices are 50% above the France national average. Similar average pricing applies to shoots in the following categories: couple, wedding, engagement, elopement, proposal, portrait, headshot. Hire a paris photographer for mini session is not the cheapest.
Paris photographer prices by photoshoot duration
Calculate the price of a Paris photographer per hour
Paris Photographer Price = Paris photographer hourly rate X number of hours of photoshoot + travel costs + options.
My professional wedding photographer rate is calculated from the time of my arrival on location, until my departure time. The travel time between 2 places and cost is charge to customers.
As a freelancer photographer in Paris, I offer an hourly rate, the photo book and delivery of photos on USB key is optional. My hourly rate includes a prior telephone meeting to prepare the report, selection and processing of 50 photos per hour, access to photos via a private gallery.
Prices of a Paris couple photoshoot, Paris photo tour, engagement photos, wedding photo, portraits photography will be based on the same hourly rate, with same features.
Examples of Paris photoshoot
Compare the cost of hiring a photographer to other cities then Paris, France.
The average price of a photographer in France varies between 400 to 3000 euros for an 8 hour presence. The hourly rate of a photographer is between the gross hourly minimum wage of €10.48 to €300 per hour in 2022. The average price of a photographer is 1190 euros for an 8-hour presence including the presence of a single photographer and the retouching of 200 to 350 digital photos, excluding photo album printing.
Couple photos, family photos, portraits of your guests, for an 8-hour photo coverage the photographer will have time to tell the best moments in the history of your celebration.
Comparison of different feature for finding a photographer in Paris, France.
The lowest-cost package includes a limited number of digital downloads that you choose from all the photos taken.
The estimate of a Paris photographer will be relative to his experience, his professional network, the quality of the service, the quality of his photos, the number of hours of presence, the hours spent in photo editing, the date of the photoshoot and features in package.
Prices for other types of photographers in Paris, France
Price for a photoshoot captured by Paris photographers booked by studios or platform are more expensive. Event agencies and photo studios hire freelancer photographers and pay them the cheapest price on the market. These photographers have their cameras and lenses, a car. They do not have to take care of the commercial part or customer relationship management. The profession of photographer requires artistic and commercial qualities. These beginner photographers or allergic to commercial relations find a compromise because they receive a lot of booking for photoshoot and only take care of photographies. 2/3 of photographers in Paris work through agencies that exhibit in all wedding fairs in France and have many clients, on several dates and in all cities of France.
---
How much cost a personal photographer in Paris ?
Paris photographer price may vary. The presence of a second photographer, especially when the number of guests exceeds 150. Options such as access to an online photo gallery, delivery of a series of black and white photos, a USB key, a box with photo prints, a personalized photo book or a large format photo album, aerial shots by drone, overtime at an increased rate after 1 a.m. and transport costs increase your photographer package.
Paris Photographer for hire
Price TTC
Included in the price
Paris Photographer Price
250€ 1rst hour of photography coverage. 130€ per each additional and consecutive hour of wedding coverage. Travel time during the photo shoot is counted as the photographer's presence time.
50 edited digital photos per hour of the photographer's presence during the photo shoot and delivered by download link.
Second photographer for photoshoot
150€ per hours of photography coverage
50 edited digital photos per photography coverage hour. .
Standart Landscape Photo Book
150 € the 1st photo book, 100 € the following ones.
25x20 cm, soft cover, 50 pages (about 100 photos), standard paper. Choice of photos by the bride and groom. Layout by the photographer. Validation with modifications by the bride and groom before printing 100 € additional.
Large Luxury Landscape Photo Book
250 € the 1st photo book, 160 € the following ones.
33 × 28 cm, printed hardcover, 50 pages (approx. 100 photos), pearl paper. Choice of photos by the bride and groom. Layout by the photographer. Validation with modifications by the bride and groom before printing 100 € additional.
24h photo kiosk rental
350 €
400 instant prints. Unlimited digital photos. Unlimited sending by e-mail. Free delivery and return. 24h rental.
Luxe Photo Prints
Postcard format 10x15, € 1.5.
A4 size 20x30, € 8.
Poster size 50x70, € 40.
Price per unit print and excluding shipping costs
The USB Key
50 €
32GB. Shipping costs included in France.
Black & White Photos
250 €
All Photos retouched in B & W
Drone
250 €
Aerial shots.
---
---
---