Paris Photoshoot for couple, wedding, familly and Eiffel Tower
Hi, I'm a photographer in Paris France for your couple photoshoot, wedding photoshoot and others themed photoshoot for tourists and parisian. My Price depends on numbers of hours you want to hire your photographer in Paris for shooting. To book Request your date, time of day to confirm your Paris photographer availability. I has a minimum booking length of 60 minutes.
Who I am ? Valerie Marini, photographer in Paris
Paris Photographer Engagement
A Engagement Session with a Paris photographer it's about you and your partner, and celebrating your love in a way that reflects who you are as a couple in the most intimate, meaningful and simple way possible.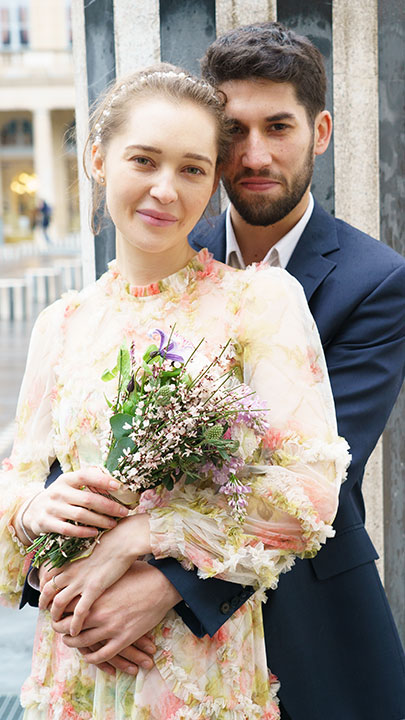 Paris Photographer Elopement
An elopement is designed to focus on the two of you and typically includes the couple, an officiant, and perhaps a witness. If you plan to travel in Paris your elopement in front of the Eiffel Tower, a Paris Photographer will be the storyteller of the magic of eloping!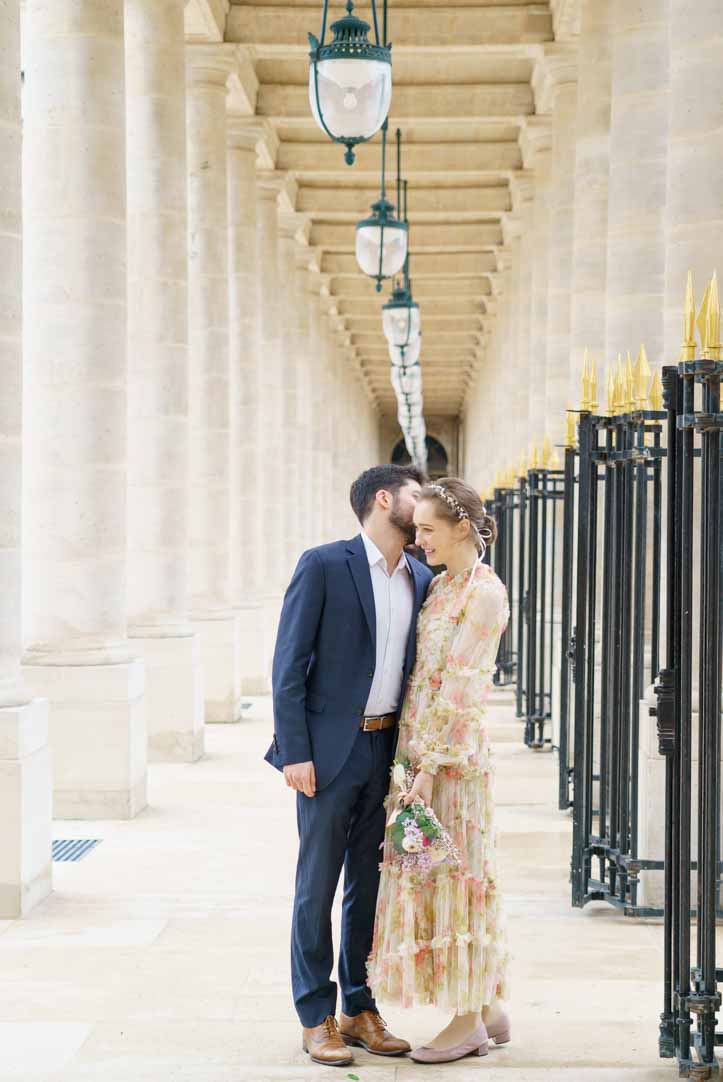 Paris Photographer Family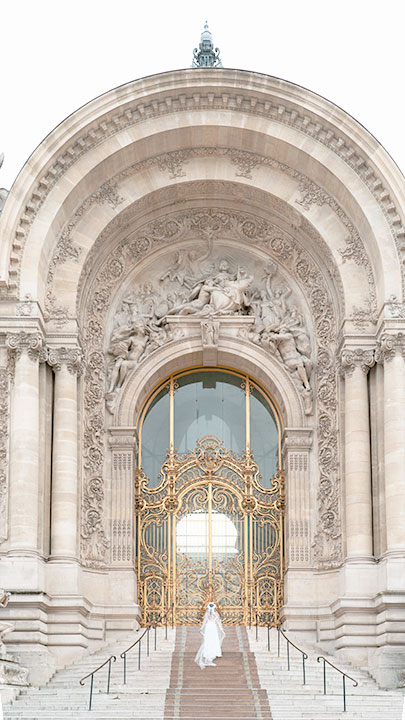 Paris Photographer Wedding
Paris Wedding Photographer capturing the Feeling of Love for exceptional Couples around the Best romantics places in Paris with Eiffel Tower ! wedding photography packages for real weddings (photoshoot on the wedding-day getting ready, the bride in a gown, the bridesmaids, the exchange of vows, wedding knot and bouquet, bridal portraits at the boudoir, the newlywed walking down the aisle, wedding-ring poses, wedding portraits at a photography studio, the wedding venue, the wedding party, etc.). Besides, it is possible to plan one final artistic wedding photoshoot after the wedding ceremony. That is to say the trash the dress-style in which the bride ruins her wedding dress to take stunning and memorable wedding photographs.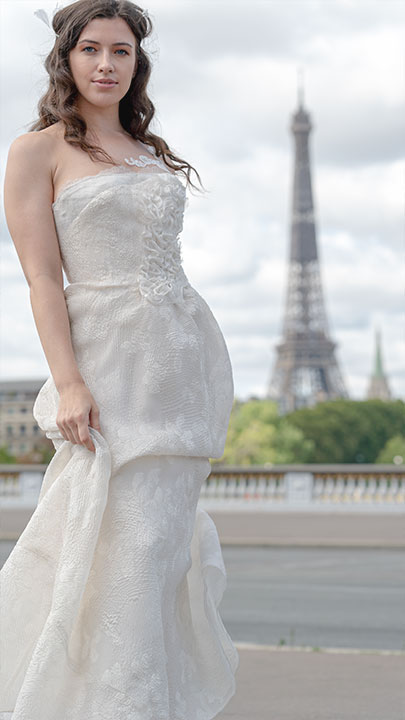 Paris Photographer Couple
Paris Photographer Headshot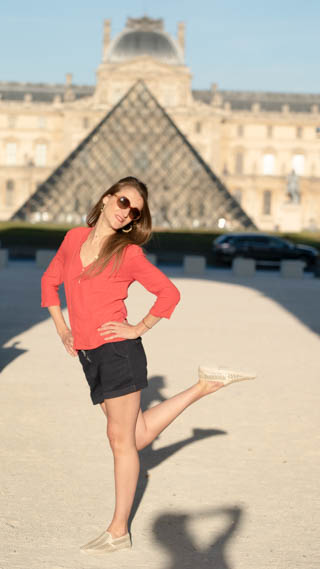 Paris Photographer Vacation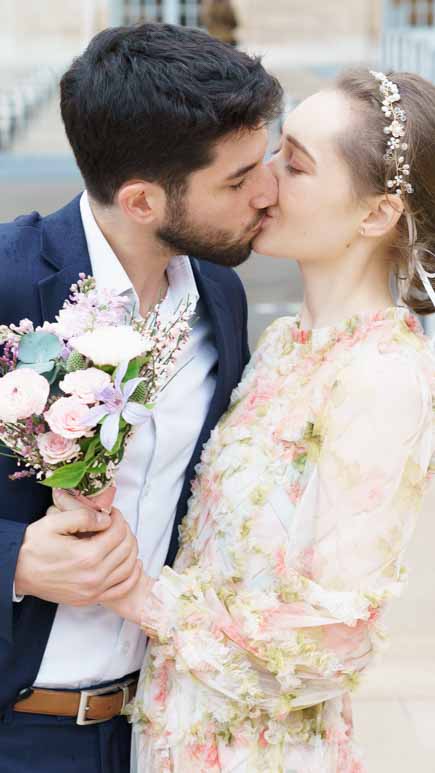 Paris Photographer Fashion
Hire a Paris' Photographer for Elopement, Family, Proposal and Wedding photography
1. What type of photoshoot would you like to book ?
Elopement
Engagement
Personal ( Family photos, portraits, couple )
Pre-wedding venue
Wedding ( Ceremony preparation, Ceremony photos, Reception photos )
Corporate ( Headshots, Team photos, Workplace photgraphy )
Fashion ( Model prtfolion Clothing promotion )
Event photpgraphy ( Birthday party, Sporting event, religious ceremony )
Private Street Photgraphy Tours and Workshops
2. What day would you like to book your Paris photographer ?
3. What time of day would you like to have your Paris photographer ?
Morning ( sunrise - 10am )
Midday ( 10am - 2pm )
Afternoon ( 2pm - sunset )
Evening ( After sunset )
I'd recommend to start as early as possible in order to have the location free of tourist crowds. Best light are sunrise and sunset.
Do you have any time restrictions your photographer needs to know about ?
e.g. You are requesting a morning shoot but you have a hairdresser appointement before or you are requesting an afternoon shoot but need to be finished by 5pm. This will help me, as your photographer, confirm my availability and hold your spot.
If your requested date is not available, are there any alternate dates that might work ?
Select Date...
Select Time of Day ...
How many participants will be on the shoot ?
Adults (18+)
Children (3-17)
Babies (0-2)
4. How long do you need photography services ?
Most people book a 60-minute shoot. It's the perfect amount of time to capture your vacation memories with 2 people and a variety of backdrops in one location. Pricing starts at 60-minute shoot see pricing packages to estimated budget.
3 hours - 150 photos
2 hours - 100 photos
90 minutes - 125 photos
60 minutes - 50 photos * Most Popular *
Eiffel Tower from Place of Trocadero
Eiffel Tower from Bir-Hakeim Bridge
Eiffel Tower from Champs de Mars
The Seine River : Bridge Alexandre III
Louvre Museum : Tuileries Gardens, Pyramids, Courtyard
Palais-Royal
The Seine River : Notre-Dame Cathedral
Sacred Heart Basilica of MontMartre
Cruises on Seine River
Please tell me ideas of what you would like to see for your photo shoot or important information that would be helpful for your photographer to know. As your photographer, I would suggest a different route if I think it is the best fit for your shoot goals
6. Choose your preferred style of photos
Mostly natural, unposed, spontaneous moments
Mostly posed, looking at the camera
Mix of both posed and natural shots
Couples venue
...
7. What level of direction would you like from the photographer ?
No direction - comfortable in front of the camera and happy with a completely phot-journalistic approach
Directed dhoot - most comfortable if the photographer offered lots of help and direction throughout the shoot
A balanced Mix - spontaneaous, in-the-moment shots combined with helpful prompts and direction from the phottographer for ideas and natural poses
What format do you want to receit the photos ?
USB stick or digital download
Print outs
Album
Paris Engagement Photographer
Paris Elopement Photographer
Paris Wedding Photographer
Your wedding day is a super intimate and special experience; this day is meant to be a celebration - You probably want a paris wedding photographer who you connect with and who is fun to be around !
What is the best time to capture pre-wedding photography in Paris, with the Eiffel Tower backgroung from Trocadero? One hour prior to sunrise to capture a few shots before the sun rises and then the beautiful sunrise. The backlight from the late afternoon sun added definition and pleasing illumination to the veil and the outline of the wedding gown.
Family Photographer Paris France
Discover my Paris Photographer Portfolio
With Print Shop and password link to share your Paris Wedding Images. Welcome on your password protected online photo gallery.
Mark the chosen photos with a star and share your Paris wedding photo gallery with friends and family.
Before you share the gallery with everyone else, you will be able to mark any image you like as private. When you share the gallery with your friends + family those selected images will be hidden from them. Once you share your gallery, anyone with access can download and purchase prints from the shopping cart!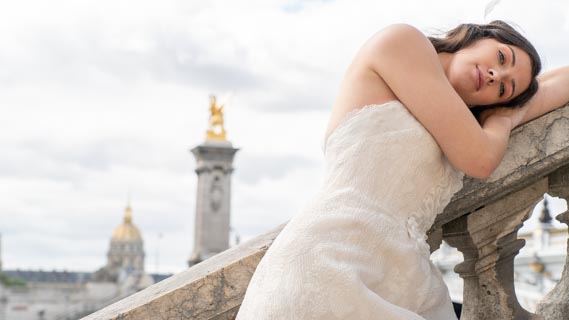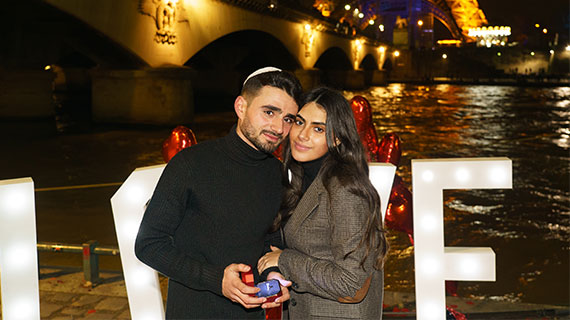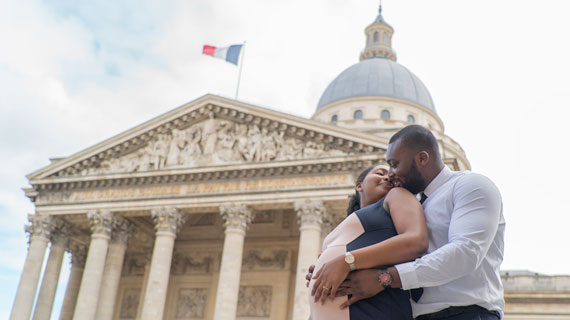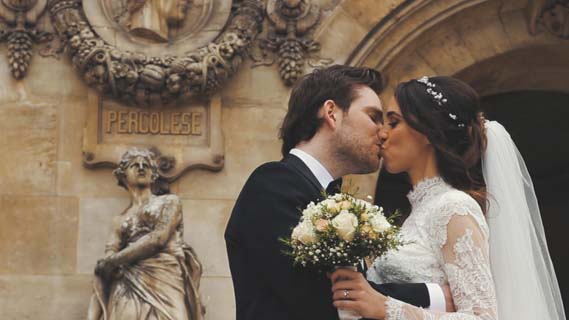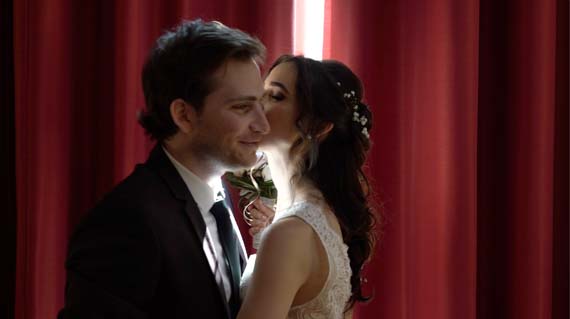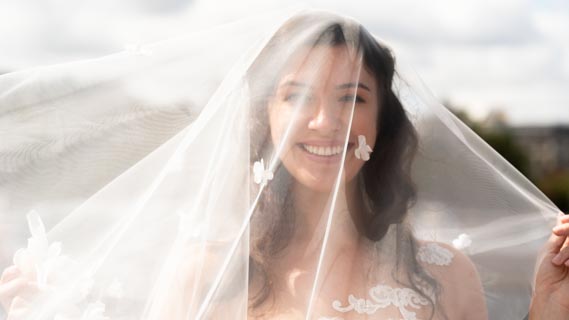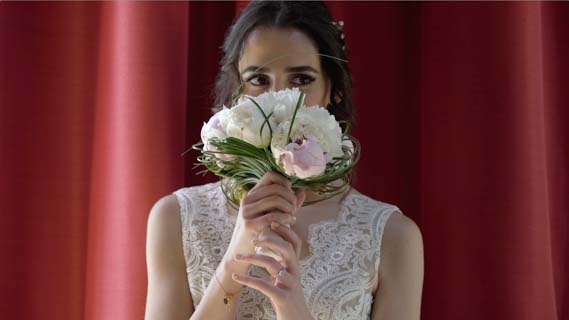 ---
Paris Photographer tips : How to pose ?
The true photojournalist is waiting for the moment but time goes fast and there is tips to produce a better picture. I move to find the best camera angle and when I find the best composition I ask the couples to standby.
Photoshoot Paris pose for bride and groom
Pose with your body. Turn your body, hip and shoulder slightly away from the photographer to look thiner. For the groom we want broader shoulder so he has to face the photographer.
Pose with arms. Move your arm away from your body. Make a angle with your arm in order to look thiner. Put your hand on your hip, in a pocket for the groom or hold your fingers together lightly. Then you'll appear relaxed and happy.
Pose with your back. Stand straight, pride and confident as a ballerina and roll the shoulders back.
Pose with your hand. Play with your hands. Put one hand in your pocket, or on your hip, or take your chin on your hand. Hold on to something like bridal bouquet or your partner. Brides, you can use your hands to touch your face or hair or your ring . Groom, you can put a hand in your pocket or hold onto your jacket with one hand.
Pose with waist. Lean forward from the waist
Pose with your face. Smile :). Tilt the head towards the camera and lifts the chin to avoid double chins.
Pose with your closes. Wear close which fit your, enhances your shape and play with it.
The wedding day is known as one of the best days of a newlywed, during which capturing every special and happy memory is all-important. That's why the wedding photographer in Paris with the videographer by his side has to frame the highlights and the best instants of the wedding day.
When you hire your wedding photographer in Paris, you should punctiliously find a Paris wedding photographer with whom you will feel a real bond. Thanks to an exchange on mutual needs and expectation, your photographer will masterfully give an everlasting fame to your big day.
---
Parisian wedding photographer Valerie Marini
Dear bride and groom, as I am a skilled eye Paris' photographer, I know Paris must-haves viewpoints and lighting for your elopement, engagement photoshoot, Paris pre wedding venue and proposal in Paris. As a photographer Paris, I ask to the couple to do casual smile, standbys, to capture romantic, natural mood and find the personality of the couple. Capturing authentic and timeless photos of you couple with Eiffel Tower from Trocadero, Alexander III bridge and Bir-hakeim bridge with well-placed backlight and careful posing is my priority as a elegant Paris photographer.
Through a trained eye of a professional, your Paris wedding photographer is concerned about the smallest details so that he wouldn't miss every sweet and pleasant memory of your elopement. Without a doubt, we cautiously capture the magical time, enhance your love, and skillfully combine natural light, framing and wedding party so that your passionate memories will remain forever.
I am particularly fond of journalistic photographing to tell your wedding story in a realistic way and more strategically reviewed environment. As a professional Paris wedding photographer, I pay great attention to the newlyweds' wishes. Like that you will feel more at-ease. After so many years of experience in wedding photography and videography, I make sure to give you a beautiful wedding day in images.
Namely for the engagement pictures, the wedding planning including the wedding dress, the veil, the invitations, slideshow, the bride and groom-to-be getting ready part (hair and makeup), the civil marriage and the church wedding ceremonies, the couple photo sessions, an outdoor wedding, and even the unforgettable honeymoon. In a nutshell, everything that makes up wedding photo galleries.
Whether it is a traditional wedding such as an Indian wedding or a vintage wedding, the elopement location, at a private place or at a prestigious luxury hotel in Paris, will be originally highlighted professionally by the best wedding photographers. We will certainly use our skills to guide and advise you in the best possible way to get professional wedding photography, but also about wedding vendors.